Incoming European President, Ursula von der Leyen, Names the Most Gender-Diverse Cabinet in History, with 13 Women and 14 Men
September 10, 2019
***
New EU Commission team enshrines gender equality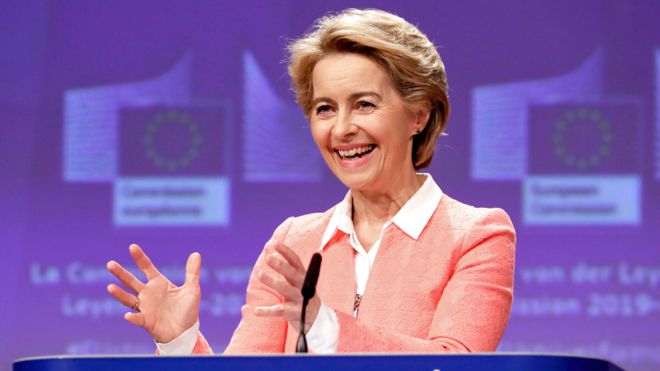 Incoming European Commission President Ursula von der Leyen has named her choices for the EU's new top team.
Those on her list face some difficult challenges, including handling the UK's exit from the 28-nation bloc and the fight against climate change.
If approved by the European Parliament, Mrs von der Leyen's executive team will be the most gender-diverse in EU history, with 13 women and 14 men.
There is no UK nominee, as Brexit is currently scheduled for 31 October.
That exit date is the day before the new Commission takes office. MEPs will hold confirmation hearings for each nominee.
Based in Brussels, the Commission is in charge of enforcing EU rules and the bloc's treaties. It is the only EU body that can draft laws.
Mrs von der Leyen, Germany's former defence minister, will officially replace Commission President Jean-Claude Juncker on 1 November.
The new executive team of 27 - one for each member state - is planned to be in place for five years.
BBC reporter Adam Fleming says the appointments are considered hugely significant in Brussels - akin to the Oscars film awards - with national pride at stake.
Mrs von der Leyen's list features some new posts within the Commission, but who are the key players?
Phil Hogan (Ireland)

Nominee for Trade Commissioner
In his current role as EU Commissioner for Agriculture and Rural Development, the former Irish government minister has criticised the UK government's attitude during Brexit negotiations and what he has called the "tough guy approach" of some "Brexiteers".
Mr Hogan described what he said was Britain's poor grasp of the importance of the Ireland-Northern Ireland border issue as "disheartening". He has warned the UK that it faces "a huge gap between hope and experience" when it begins operating its own trade policy.
Earlier this year, the 59-year-old warned plans published by the UK government for tariffs in the event of a no-deal Brexit were an attempt "to break EU unity" over the Irish border issue.
On Tuesday, Mrs von der Leyen described Mr Hogan as an "excellent" negotiator, adding that he will be "very fair but determined".
Margaritis Schinas (Greece)

Nominee for Vice-President and Protecting Our European Way of Life
Known to be extremely careful about what he does and does not say, the current EU Commission spokesman and member of Greece's ruling centre-right party New Democracy has been outspoken about Brexit.
Mr Schinas, 57, has pushed the UK to provide "clarification" on the rights of EU citizens living in Britain following the country's exit from the union.
He has also said that in a no-deal scenario, it would be "pretty obvious" that there would be a hard border on the island of Ireland - meaning checks on people and goods.
If approved for the role, Mr Schinas will oversee migration, security, employment and education.
Frans Timmermans (Netherlands)

Nominee for Executive Vice-President for European Green Deal
Currently First Vice-President of the Commission, the centre-left politician has already shown a preparedness to tackle the climate crisis, helping to steer through EU legislation banning plastic straws.
The multilingual 58-year-old could now see himself helping to implement further environmental policies, which will be at the heart of the EU's agenda for the next five years.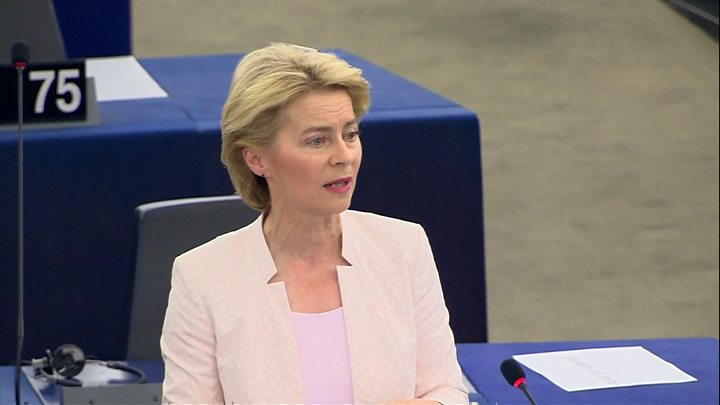 He has also previously negotiated the EU's 2016 deal with Turkey to reduce the flow of migrants and has warned of the risks of nationalism.
"People who used to vote for my party and many parties here are now voting for nationalist parties, sometimes even extremist parties. That's our fault," he said in June.
Margrethe Vestager (Denmark)

Nominee for Executive Vice-President, Europe Fit for the Digital Age
A big name in Danish politics, Ms Vestager has spent the past five years as EU competition commissioner, spearheading EU anti-trust investigations that have ended in big fines for US technology giants Google and Apple.
Her nomination may cause technology firms to sit up and take note. She has already earned the wrath of US President Donald Trump: "Your tax lady, she really hates the US," he is reported to have told her boss, Jean-Claude Juncker.
But she believes companies must pay their way.
Ms Vestager, 51, is a member of the European liberal group Renew Europe. She gained ground in the European elections earlier this year and was among the nominees for Mrs von der Leyen's role.
She has previously served as Denmark's economy and interior minister.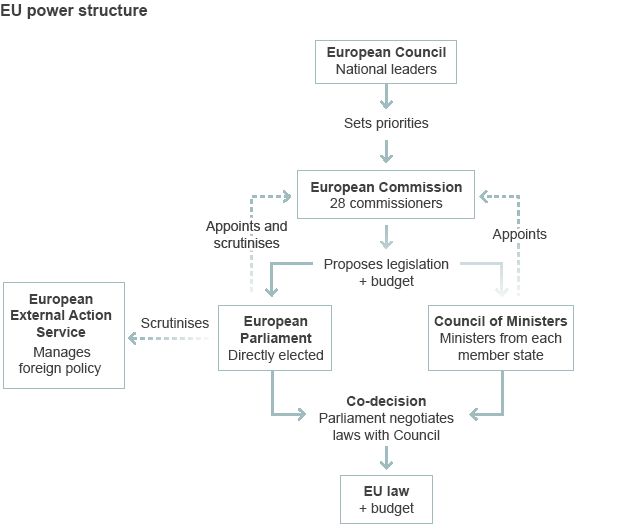 Who else is on the list?
Johannes Hahn (Austria), Budget and Administration; Didier Reynders (Belgium), Justice; Mariya Gabriel (Bulgaria), Innovation and Youth; Dubravka Suica (Croatia), Democracy and Demography; Stella Kyriakides (Cyprus), Health; Vera Jourova (Czech Republic), Values and Transparency; Kadri Simson (Estonia), Energy; Jutta Urpilainen (Finland), International Partnerships; Sylvie Goulard (France), Internal Market; Laszlo Trocsanyi (Hungary), Neighbourhood and Enlargement; Paolo Gentiloni (Italy), Economy; Valdis Dombrovskis (Latvia), An Economy that Works for People; Virginijus Sinkevicius (Lithuania), Environment and Oceans; Nicolas Schmit (Luxemburg), Jobs; Helena Dalli (Malta), Equality; Janusz Wojciechowski (Poland), Agriculture; Elisa Ferreira (Portugal), Cohesion and Reforms; Rovana Plumb (Romania), Transport; Maros Sefcovic (Slovakia), Relations and Foresight; Janez Lenarcic (Slovenia), Crisis Management; Josep Borrell (Spain), A Stronger Europe in the World; Ylva Johansson (Sweden), Home Affairs.
https://www.bbc.com/news/world-europe-49646809
***
Ursula von der Leyen's new European Commission is a win for France
She wants a bolder, greener and more cohesive Europe
The Economist, Sepember 10, 2019
EMMANUEL MACRON is having a good summer. In July leaders of the European Union's member states nominated Ursula von der Leyen, then the German defence minister, to be president of the European Commission on his urging. In a package deal Christine Lagarde, the French head of the IMF, was put forward to lead the European Central Bank; Charles Michel, the Belgian prime minister and a Macron ally, for the European Council presidency; and Josep Borrell, Spain's Francophone foreign minister, to be the EU's next high representative for foreign affairs. Having narrowly won her confirmation vote in the European Parliament, on September 10th Mrs von der Leyen presented her proposed line-up of commissioners at a multilingual press conference at the Berlaymont building in Brussels. It was another good day for the French president.
Under Mrs von der Leyen's proposal—the European Parliament holds confirmation hearings before the new commission takes office on November 1st—the next commission will be more hierarchical than the last one. Directly below her will be a team of three silo-busting "executive vice-presidents" in charge of the three broad areas that, Mrs von der Leyen has indicated, will be her priorities. Margrethe Vestager will lead on making Europe "fit for the digital age" and stay on as competition commissioner—in which role the Danish liberal has capably taken on American digital giants and made an enemy of Donald Trump. Frans Timmermans, a Dutch social democrat, will be in charge of Europe's "green new deal", accelerating the EU's progress towards carbon neutrality by 2050. And Valdis Dombrovskis, a Latvian Christian Democrat, will lead on economic and financial affairs, with a special emphasis on inclusivity.
The choice of the three reflects the long-term shift towards a more political and proactive commission. They hail from the three largest mainstream political groups in the new, more fractured parliament that Mrs von der Leyen will have to keep onside to secure majorities for her proposals (she may also rely on Greens, hence the big focus on climate change). Ms Vestager and Mr Timmermans were both "lead candidates" in the European election, boosting the team's democratic legitimacy. The inclusion of Mr Dombrovskis tackles central European fears of "second-class" status. With Mrs von der Leyen the trio will form an inner quad running the EU's executive, with an outer ring of five regular vice-presidents (three from central Europe and two from southern Europe, providing a geographical balance) and beyond them the remaining 18 members of the commission.
Among the other vice-presidents and commissioners are several notable appointments. Paolo Gentiloni, a centre-left former prime minister of Italy, becomes commissioner for economic affairs with responsibility for fiscal rules—indicating that Mrs von der Leyen wants to use the opportunity of Italy's new, more pro-European governing coalition to reset the Brussels-Rome dispute over the Italian budget. This may, however, worry flintier Germans and other northern members of the so-called New Hanseatic League. Sylvie Goulard, a former French defence minister and close ally of Mr Macron, takes charge of the single market and defence; she will oversee the establishment of a European strategy for regulating artificial intelligence and with Ms Vestager will push forward a Digital Services Act on e-commerce. Phil Hogan of Ireland, currently the agriculture commissioner, will take over the trade portfolio, including responsibility for negotiating any deal with a post-Brexit Britain—a firm reminder that the EU's first allegiances in such matters are to Dublin rather than London.
Less auspicious is the appointment of Laszlo Trocsanyi as commissioner for enlargement; as an ally of Hungary's authoritarian Viktor Orban he is hardly well-placed to pass judgment on the state of rule-of-law in would-be accession countries. That Margaritis Schinas, the Greek commissioner and a former chief spokesman for the commission, has been made vice-president for migration (a portfolio ominously dubbed "protecting our European way of life") suggests the incoming commission will see that matter as a question of tough borders and public relations.
Some candidates may have a rough ride during the hearings. Mr Trocsanyi's appointment is far from safe, for example. But assuming most or all of the current line-up survive to take office on November 1st, it is fairly clear how the EU's executive will operate over the next five years. Environmental progress will be central. Mrs von der Leyen wants to upgrade the EU's carbon-emissions target for 2030 to a 55% cut from 1990 levels. At the same time, alarmed at the fragmentation of the EU, she wants to reduce the gulfs between and within member states: first indications suggest her commission will be relatively harsh on migration and less critical about the rule of law in order to bind in those southern and central European states that risk drifting away from the European fold (Vera Jourova, a Czech, becomes vice-president for "values"). Progressive on the environment and social cohesion—16 of the 27 commissioners have liberal or leftish political backgrounds—but reactionary on culture-war issues, in other words.
Most important for the wider world is that the von der Leyen commission will be committed to making Europe a more autonomous actor in a threatening-looking world—or extending "European sovereignty", as it is called in euro-speak. Ms Vestager and Ms Goulard will make a strong team developing a distinctive European way of managing new technology and finding a balance between open markets and interventionist industrial strategy in responding to new industrial giants from China and Silicon Valley (Ms Vestager's liberal instincts may collide with the activist mood, personified by Ms Goulard, in Paris and Berlin). Mr Borrell, a straight-talking socialist and foreign-policy heavyweight, will have license to project Europe's voice in the world more loudly.
All of which fits well with Mr Macron's strategy. Not only does the French president have allies and fellow-travellers—from Mrs von der Leyen and Ms Lagarde to Ms Vestager and Ms Goulard—in powerful positions, but the whole structure and programme of the new commission aligns with Mr Macron's hopes for Europe. It proposes more geopolitical autonomy, a greener and more thrusting economy, deeper political structures, more cohesion and more "realism" about progress towards liberal values in central and eastern Europe. Like it or not, the French president is the dominant figure in European politics today. In Mrs von der Leyen he appears to have a like-minded ally in Brussels.
https://www.economist.com/charlemagnes-notebook/2019/09/10/ursula-von-der-leyens-new-european-commission-is-a-win-for-france
***
Share the link of this article with your facebook friends
This site contains copyrighted material the use of which has not always been specifically authorized by the copyright owner. We are making such material available in our efforts to advance understanding of environmental, political, human rights, economic, democracy, scientific, and social justice issues, etc. We believe this constitutes a 'fair use' of any such copyrighted material as provided for in section 107 of the US Copyright Law. In accordance with Title 17 U.S.C. Section 107, the material on this site is distributed without profit to those who have expressed a prior interest in receiving the included information for research and educational purposes. For more information go to: http://www.law.cornell.edu/uscode/17/107.shtml. If you wish to use copyrighted material from this site for purposes of your own that go beyond 'fair use', you must obtain permission from the copyright owner.