Boris Johnson Faces Another Bad Day and Another Big Defeat and Protests in Parliament and Outside
September 10, 2019
| | |
| --- | --- |
| | |
| Some MPs voiced their objection to the suspension in the Commons, September 9, 2019 | Defeated British PM, Boris Johnson, in the Parliament, September 9, 2019 |
Brexit: Protests as five-week Parliament suspension begins
BBC, September 10, 2019
Some MPs voiced their objection to the suspension in the Commons
Media captionSome MPs voiced their objection to the suspension in the Commons
Parliament has officially been suspended for five weeks, with MPs not due back until 14 October.
Amid unprecedented scenes in the Commons, some MPs protested against the suspension with signs saying "silenced" while shouting: "Shame on you."
It comes after PM Boris Johnson's bid to call a snap election in October was defeated for a second time.
Opposition MPs refused to back it, insisting a law blocking a no-deal Brexit must be implemented first.
In all, 293 MPs voted for the prime minister's motion for an early election, far short of the two thirds needed.
Parliament was suspended - or prorogued - at just before 02:00 BST on Tuesday.
As Speaker John Bercow - who earlier announced his resignation - was due to lead MPs in a procession to the House of Lords to mark the suspension, a group of angry opposition backbenchers tried to block his way.
Late into the night, MPs also burst into song on the Commons benches, singing traditional Welsh and Scottish songs, Labour anthem Red Flag and hymns like Jerusalem.
BBC assistant political editor Norman Smith said "the uproar in Parliament wasn't just Pantomime politics - there is genuine fury and incredulity that at such a crucial moment for the nation, the place is being shut down."
During the five-week suspension, parties will hold their annual conferences but no debates, votes or committee scrutiny sessions will take place.
Boris Johnson will not face Prime Minister's Questions until the period is over and his scheduled questioning by the Commons liaison committee on Wednesday has been cancelled.
Parliament's suspension means MPs will not get another chance to vote for an early election until they return, meaning a poll would not be possible until November at the earliest.
Media playback is unsupported on your device
Brexit: What happened on Monday?
Media captionBrexit: What happened on Monday?
It is normal for new governments to suspend Parliament - it allows them to schedule a Queen's Speech to set out a fresh legislative programme - but the length and timing of the prorogation in this case has sparked controversy.
The decision to prorogue was entirely in the hands of the government, although there have been failed attempts via the courts to stop it.
Elsewhere on Monday, in a hectic day of political developments:
The prime minister also suffered another defeat, as MPs backed calls for the publication of government communications relating to the suspension of Parliament and its no-deal plans; Mr Johnson was warned he could face legal action for flouting the law blocking no deal; MPs approved, without a vote, a motion from Labour leader Jeremy Corbyn demanding the government abide by the rule of law.
At present, UK law states that the country will leave the EU on 31 October, regardless of whether a withdrawal deal has been agreed with Brussels or not.
But new legislation, which was granted royal assent on Monday, changes that, and will force the prime minister to seek a delay until 31 January 2020 unless a deal - or a no-deal exit - is approved by MPs by 19 October.
BBC political editor Laura Kuenssberg said although No 10 insisted it was not looking to break the new law, efforts were under way to examine ways of getting around it.
Mr Johnson said the government would use the time Parliament was suspended to press on with negotiating a deal with the EU, while still "preparing to leave without one".
"No matter how many devices this Parliament invents to tie my hands, I will strive to get an agreement in the national interest," he said.
"This government will not delay Brexit any further."
Mr Johnson told MPs Mr Corbyn had previously said he would back an election if legislation to prevent the government from forcing through a no-deal Brexit on 31 October became law.
"By his own logic, he must now back an election."
But Labour, the SNP, the Liberal Democrats, the Green Party, the Independent Group for Change and Plaid Cymru have all agreed they will not back an election until the no-deal legislation has been implemented.
Mr Corbyn told MPs his party was "eager for an election - but as keen as we are, we are not prepared to risk inflicting the disaster of no deal on our communities, our jobs, our services or indeed our rights".
And he said the prime minister was suspending Parliament to avoid discussions of his plans.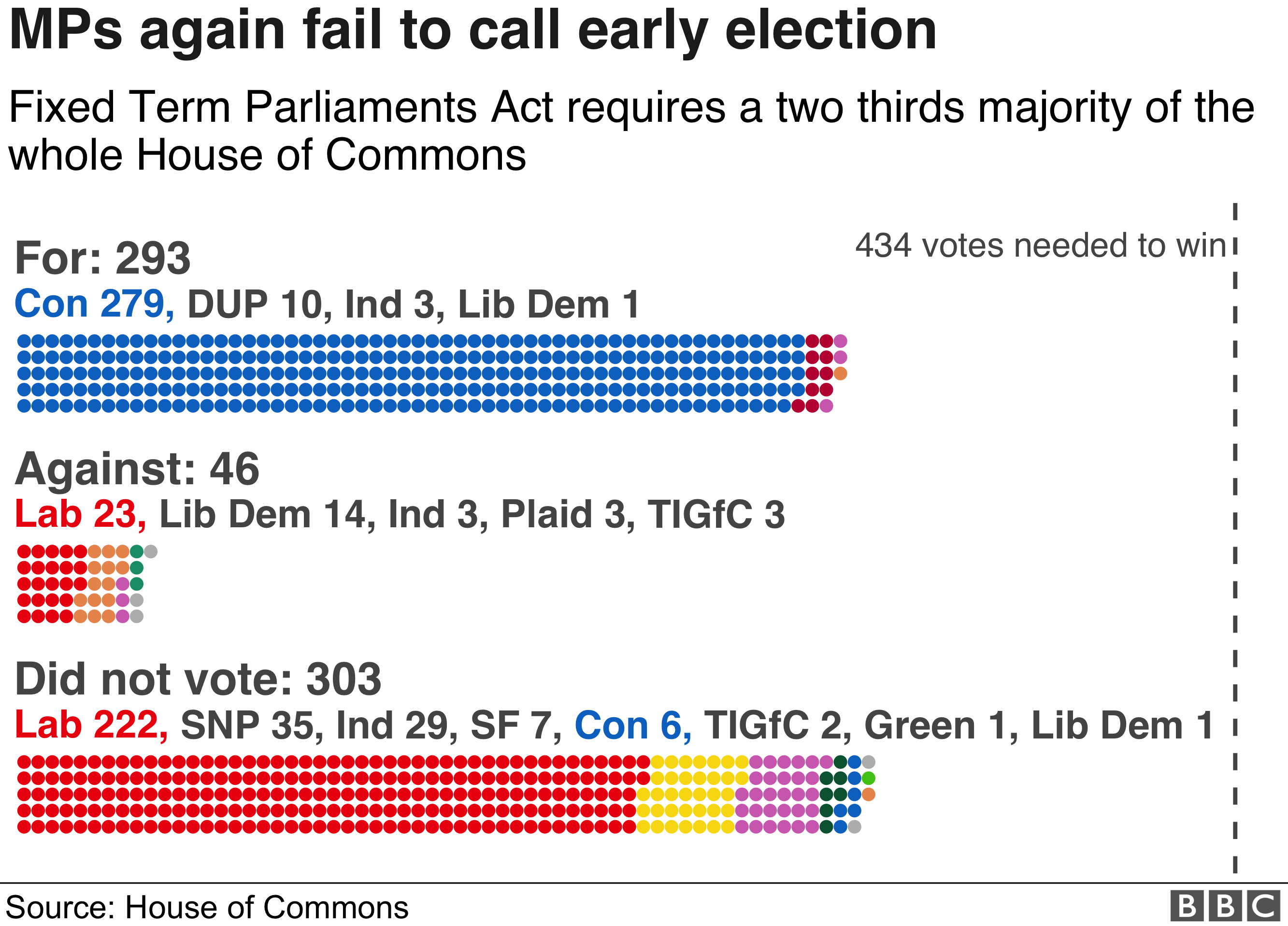 Sir Oliver Letwin, who last week defied Mr Johnson to vote to block a no-deal outcome and subsequently lost the Conservative whip - told BBC Radio 4's Today he believed there was now a majority in the Commons to back another referendum.
Asked whether the prime minister would back a further vote, Mr Letwin replied: "Boris has often changed his mind about many things and that's one of his advantages, that he's very flexible so maybe he can."
Mr Johnson is now more than 20 seats short of a majority in Parliament, making effective government extremely difficult.
The prime minister's self-imposed Halloween Brexit deadline looks further out of reach than a few short days ago.
Is it impossible? Absolutely not.
There is the possibility, still, of a deal, with Number 10 today stressing it was still their primary aim.
Whispers again about a Northern Ireland only backstop, and a bigger role for the Stormont assembly, if it ever gets up and running, are doing the rounds.
Some MPs and some diplomats are more cheerful about the possibilities of it working out.
If you squint, you can see the chance of an agreement being wrapped up at pace, although it seems the chances range somewhere between slim and negligible.
Former Conservative Dominic Grieve, who also lost the whip last week, was behind the move the force the publication of government communications relating to prorogation and no-deal Brexit plans, known as Operation Yellowhammer.
It was backed by 311 votes to 302, after Mr Grieve told MPs it was "entirely reasonable" to ask for the disclosure "so the House can understand the risks involved and this can be communicated more widely to the public".
Cabinet minister Michael Gove, who is in charge of no-deal preparations, argued against the move, suggesting he had already given "sufficient assurances" to the EU select committee on Yellowhammer.
Attorney General Geoffrey Cox questioned the legal right of the government to require employees - including the PM's top aide Dominic Cummings - to open up their private email accounts and personal mobiles to scrutiny.
After the vote, a government spokesman said it would "consider the implications and respond in due course".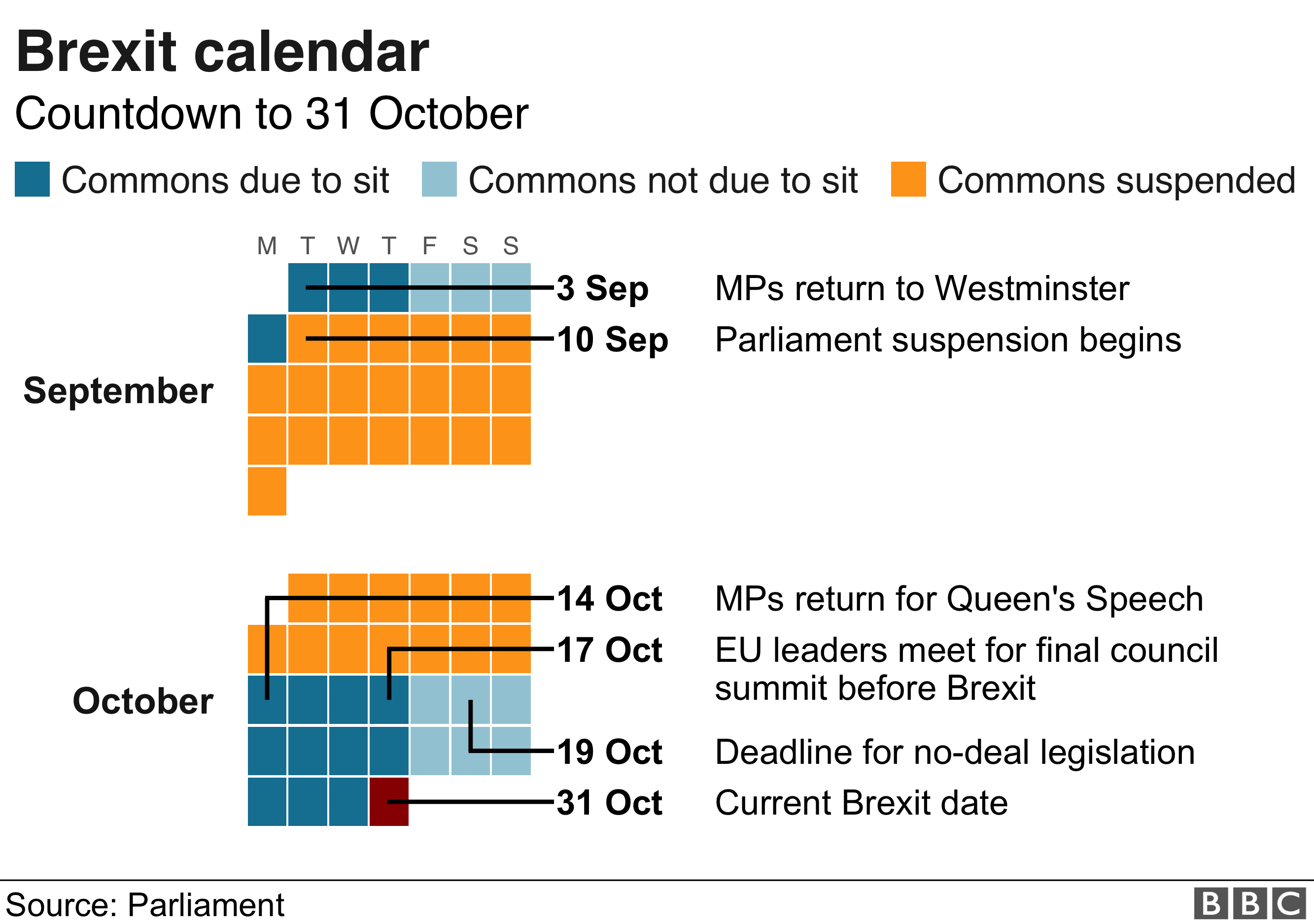 Earlier on Monday, Mr Johnson held talks with Leo Varadkar in Dublin, his first meeting with the Irish prime minister since he entered No 10.
The Irish border has proved a key sticking point in attempts to agree a Brexit deal between the UK and the EU.
https://www.bbc.com/news/uk-politics-49645338
***
For Boris Johnson, Another Bad Day and Another Big Defeat in Parliament
Stephen Castle
September 10, 2019
New York Times, LONDON —
British lawmakers, capping what may be one of the most abysmal starts any British leader has ever endured, on Monday rejected Prime Minister Boris Johnson's bid to hold a new national election.
For Britain's bare-knuckled new prime minister, it was a day of defeat. Parliament's rejection of a snap election came as a new law went into effect on Monday blocking Mr. Johnson from pursuing a "no deal" withdrawal from the European Union.
Sign Up For the Morning Briefing Newsletter
Parliament is now suspended until mid-October, the result of earlier political maneuvering by the prime minister. But by Monday's end, it seemed clear that if Mr. Johnson had thought he could outfox Parliament by suspending it, sidelining lawmakers at a critical moment in the Brexit debate, he was the one who had been outmaneuvered.
Now, the man who promised to deliver Britain's withdrawal from the European Union "do or die," formal withdrawal agreement or not, is suddenly flailing for a new strategy.
Mr. Johnson needed more than 430 votes for a snap election to proceed. He got 293.
Brexit supporters and opponents alike may want an election — but only one timed to most benefit them politically.
"Johnson is a toothless prime minister who desperately needs a snap election to give some credibility to his Brexit strategy," wrote Kallum Pickering, a senior economist with Berenberg Bank. But, he added: "For the opposition parties, it makes little sense to give Johnson the election on his terms. That would return the initiative to him."
It was just another day in the new Britain, which has been bitterly divided since voters narrowly voted in favor of parting company with the European Union in a 2016 referendum. The issue did in the two prime ministers before Mr. Johnson, and while he was able to ride the ensuing tumult to power, it has severely damaged him, too.
On Monday, the motion to suspend Parliament, or "prorogue" it, and send lawmakers away for five weeks, came after eight days of head-snapping moves and countermoves in Parliament.
The suspension, which the Johnson government announced in principle less than two weeks ago, was denounced by critics as a transparent, anti-democratic effort to sideline Parliament while the government forced through a no-deal Brexit.
But the government's move to suspend Parliament backfired, serving to unite the disparate opposition, incite a revolt within Mr. Johnson's own party and produce the bill that now blocks a no-deal Brexit. On Monday, that bill became law when it completed the final stage of passage, a formality known as royal assent.
The turbulent week has left Mr. Johnson in a tight corner. He has promised to leave the bloc on Oct. 31 — without an agreement if necessary — and said last week that he would rather be "dead in a ditch" than request another delay to a process that has already been put off twice.
Digging his way out of that promise could be tough, because a majority of lawmakers think that a no-deal Brexit would be disastrous for the country's economy. The new law is intended to force Mr. Johnson to request another extension if he cannot secure a withdrawal agreement with European Union officials before the Oct. 31 deadline.
As recently as a few weeks ago, Mr. Johnson said the chances of leaving the European Union without a deal were a million to one against; he now puts the prospects as "touch and go."
But many of his critics believe the prime minister's real agenda is political. They believe he plans to fight for re-election as the candidate for Brexit at any cost, rallying right-wing voters behind him and crushing the threat from the hard-line Brexit Party, led by Nigel Farage.
From Mr. Johnson's perspective, the suspension of Parliament at least provides some relief by removing the possibility of further embarrassments and defeats at the hands of lawmakers after a week of tumultuous setbacks.
But it also means that prospects of a general election before the Oct. 31 Brexit deadline have slipped away.
Mr. Johnson had hoped to use a big win in an election before that date to empower his government to push through withdrawal from the European Union, with or without a deal. Lawmakers, however, need to approve an early election, and with the suspension of Parliament lawmakers cannot do so for at least five weeks. It would then take several weeks to organize an election.
With so much riding on an election that most expect toward the end of the year, the rival parties are trying to ensure that the timing best suits them.
Mr. Johnson's opponents rejected his call for a vote in October because they believe that their interests would be better served by a vote that comes after the deadline for withdrawal, at least if Mr. Johnson fails in his categorical pledge to deliver Brexit by Oct. 31.
They also know that there is a mood of discontent inside the ruling Conservative Party because Mr. Johnson last week expelled 21 lawmakers from his party — including some of its best-known figures — when they rebelled and supported legislation to prevent a no-deal Brexit.
Since then, Mr. Johnson has suffered the resignation from the government both of his brother, Jo Johnson, and of Amber Rudd, the high-profile former work and pensions secretary who quit over the weekend partly in protest of the party cull, and of Mr. Johnson's broader Brexit strategy.
As the last hours of the parliamentary session ticked down on Monday night, Mr. Johnson had still yet to win a vote as prime minister.
Lawmakers voted against the government to demand the release of private messages sent by close advisers to Mr. Johnson about the decision to suspend Parliament, and of documents about the possible impact of leaving the European Union without a deal.
Then Mr. Johnson was defeated on a motion brought by the Labour leader, Jeremy Corbyn, reaffirming the obligation of government ministers to uphold the rule of law. Mr. Johnson allowed the motion to pass without opposition.
Mr. Corbyn introduced the motion in light of reports in recent days that Mr. Johnson was planning to flout the law blocking a no-deal Brexit by refusing to ask Brussels to delay the current deadline of Oct. 31. Mr. Corbyn called that an "assault on the rule of law."
Ministers insist the prime minister will not break the law, but still suggest the government is looking for loopholes to avoid Mr. Johnson having to ask Brussels for an extension. They did not explain how that circle can be squared.
One possibility is that Mr. Johnson may strike a new deal with the European Union, but the odds against that are long.
A meeting Monday with the Irish prime minister, Leo Varadkar, in Dublin, yielded nothing new on the biggest sticking point, the so-called Irish backstop plan to keep open the border between Ireland and Northern Ireland, which is part of the United Kingdom.
Mr. Johnson could try to circumvent the new law, perhaps by sabotaging the prospects of a Brexit extension from the European Union by making it clear that he will be an obstructive force in Brussels.
But anything too blatant might land him in court, so another course of action might be to call a vote of confidence in his own government, or simply to resign and leave another politician to request the delay, gambling that an election would follow soon.
Relinquishing power might, however, be a tough call for a politician who has spent so much time and energy, and provoked such much turmoil, in his successful bid to reach the top job in British politics.
Even the day's only silver lining for Mr. Johnson came with a poison pill.
John Bercow, the speaker of the House of Commons — and a thorn in the side of the government throughout the Brexit debate — announced his plans to step down. But he timed it so that the current Parliament, which is packed with opponents of the prime minister, would choose his successor.
Benjamin Mueller contributed reporting.
https://www.msn.com/en-us/news/world/for-boris-johnson-another-bad-day-and-another-big-defeat-in-parliament/ar-AAH312b?ocid=spartandhp
***
Share the link of this article with your facebook friends
This site contains copyrighted material the use of which has not always been specifically authorized by the copyright owner. We are making such material available in our efforts to advance understanding of environmental, political, human rights, economic, democracy, scientific, and social justice issues, etc. We believe this constitutes a 'fair use' of any such copyrighted material as provided for in section 107 of the US Copyright Law. In accordance with Title 17 U.S.C. Section 107, the material on this site is distributed without profit to those who have expressed a prior interest in receiving the included information for research and educational purposes. For more information go to: http://www.law.cornell.edu/uscode/17/107.shtml. If you wish to use copyrighted material from this site for purposes of your own that go beyond 'fair use', you must obtain permission from the copyright owner.